Kauai Rentals at Kiahuna
The island is home to over 57 resorts and hotels, 22 in the Poipu Beach area alone. Over half of these are condo resorts offering accommodations with dining rooms and kitchens, so that guests don't have to eat every meal in a restaurant. Condos on Kauai can be found in one, two, and even three bedroom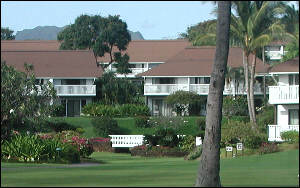 layouts. Most common is a one bedroom condo with a pull-out sofa bed, allowing the unit to accommodate as many as four people. The multiple bedroom condos are at a premium during the Christmas and Summer holidays, when families gather. Kiahuna Plantation Resort, with 29 acres of manicured lawns and gardens, is one of the largest of Kauai's condo resorts. We estimate Kiahuna offers more garden per guest than any other resort.