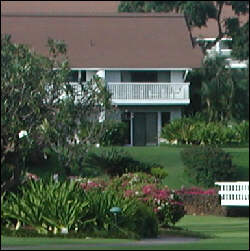 Kiahuna Plantation Resort
Kiahuna is unique, combining a beautiful 35 acre garden setting, elegant plantation style architecture, and the best swimming beach in Poipu. Kiahuna is actually the only condo resort in Poipu located right on the beach. Kiahuna Plantation's low rise architecture evokes an era in Hawaii when hotels were few and the pace of life considerably slower. With fully equipped kitchens and on site barbecues, you can enjoy leisurely meals at your beach house or in the Kiahuna Plantation gardens. But, with a number of great restaurants within walking distance, including Kiahuna's own Plantation Gardens Restaurant, eating out is always a tempting option too.

Komo mai, nou ka hale. - "Come in, the house is yours."
Poipu's small town aloha is at it's best at Kiahuna Plantation.